Lead generation is a long, demanding, but extremely important process. To get the desired results, you want to make sure that your lead generation efforts are predictable and reliable. But once you set everything up, sales will accelerate, allowing you to increase ROI and become more selective in who you want to work with. Luckily, there is an abundance of useful tools that can make the lead generation process as effective and efficient as possible. You just need to know which tools and software platforms to use. In this post, we wanted to share with you some of the best tools you can use to capture and convert more leads. Keep reading!

Here is the list of some of the best lead generation & prospecting tools:
Lead Prospecting Tools
The first step in any sales process is finding the right people who might be interested in your product or service. Luckily, you don't have to spend weeks browsing through companies' websites and social media profiles. Things are much easier now. So what are some of the best prospecting tools at the moment?
If you're looking for the most comprehensive B2B contact database, you'll probably find this tool extremely useful. This platform was specifically designed to help you get in touch with the right people. ZoomInfo had acquired their comprehensive database with the help of NextGenSearchBot ‒ a proprietary web crawler, and they constantly make sure that the data is up-to-date. The platform allows the user to find the prospects based on various filters, such as job title, location, industry, company size/revenue, etc. Their database will provide you with access to the most accurate data and contact details of decision makers.
Pricing: not provided by the vendor.

This is the lead generation platform that allows you to easily connect with the right person. The benefit of UpLead that makes it stand out among other tools is its real-time email verification tool. You'll be able to verify your prospect's contact details on the spot and get a clean and up-to-date contact list. The more accurate the data, the higher the conversion rate. Besides, many users admit that they like its intuitive interface as it simplifies their workflow. UpLead will be especially useful for marketing, sales, and HR professionals.
Pricing: starting from $49 per user per month
This is another great tool for getting in touch with the right people. DiscoverOrg allows users to obtain all the necessary information for prospecting and reaching out to various companies across the globe. DiscoverOrg would be a valuable addition to your sales department if you are doing business overseas. It allows users to search for potential customers by region, industry, a number of employees, and more. This contact base is also updated on a regular basis and it has proven to be one of the most accurate contact data sources available at the moment.
Pricing: not provided by the vendor.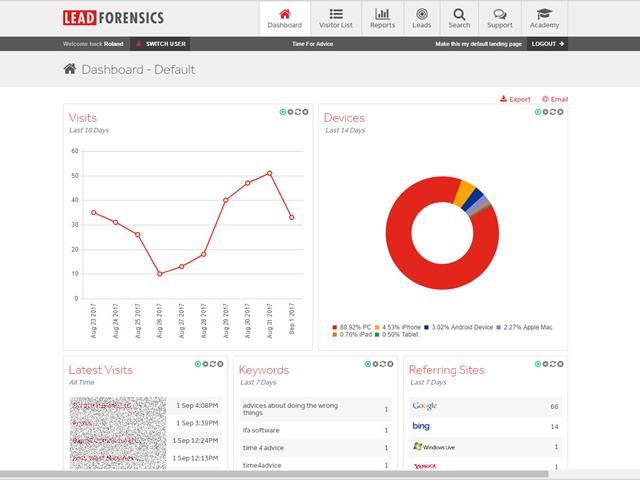 Are you focusing on the leads who have left their contact details in your web lead capture form? Then you will be astonished seeing how many leads just slip away right under your nose. Those are the leads you never knew you had ‒ anonymous visitors of your website. If you never really thought about paying attention to everyone who visits your website but would like to see whether this could increase your sales, you should try Lead Forensics. With the help of this tool, you'll be able to get contact details of all the people visiting your website. And it also allows you to sort prospects by the likelihood of them becoming your customers.
Pricing: starting from $0.01, based on how much traffic is generated on the website.
What's the most popular place to look for the new B2B leads? Even if you are searching for people elsewhere, LinkedIn has definitely slipped your mind now, which is not surprising. And if you already leverage the benefits of LinkedIn, Sales Navigator will make your efforts a few times more productive. It's their very own tool called for finding prospects. LinkedIn Sales Navigator will help you find the right people faster and engage with them more efficiently. This tool will also allow you to keep track of what's happening with your current leads, and more.
Pricing: starting from $64.99 per month (billed as annual payment), or $79.99 per month (billed montly).
Email Finders and Verification Tools
Struggling to get through to your prospects? Can't seem to find the right email address? If this is becoming a real problem in your sales department, it's time to implement a decent email verification tool.
This Gmail extension can actually provide you with an email address of the prospect even if you don't have their contact details in your address book. It enables you to literally find almost any email in under five seconds without leaving your mailbox. All you need to do is just type in the company name and Clearbit Connect will immediately show you available contacts. This tool is super convenient as it helps users get in touch with the best-suited person. If you are in sales, marketing, or recruiting, you'll find it extremely helpful.
Pricing: community addition ‒ free (find 100 emails per month, but you should share your business contacts with the Clearbit); premium addition ‒ $499 per month (includes 5 users, find 200 emails per month, contact sharing opt-in).
One of the most important things in lead generation is being able to actually reach out to a potentially interested person. Finding the right email address is a daunting but necessary task. Luckily, you can automate this process with the help of Hunter ‒ a great tool for email search. Use Hunter to find prospects' emails by simply typing in the person's name and the company. You can also browse through all emails within some particular company, which is especially useful in B2B sales where multiple stakeholders are involved. Additional features like a confidence rating increase the likelihood of you getting through to the right person.
Pricing: starting at $49 per month (1000 requests). Free usage possible (includes 100 free requests/month).
ContactOut is a simple browser extension that helps you find email addresses and phone numbers of anyone on LinkedIn.
They've been around for just over three years and already have thousands of users from a third of the Fortune 500 (like Microsoft, PwC, and Symantec). ContactOut finds emails from 75% of Linkedin users (2x better than the next closest competitor) at a 97% accuracy rate. It's earned us multiple mentions on the ahrefs blog as one of the best freemium email outreach tools available.
Pricing: not given by vendor. Free trial possible.
Communication Tools
You want to respond to your leads as soon as they express interest in your product. This way, you have more chances to close the deal. But how can you ensure fast response?
Speed is a critical factor in lead generation. The faster you react to the person's spark of interest, the easier it will be to start a fire of deep engagement and cooperation. Intercom is a great online chat tool that lets you engage with your leads and answer all their questions as soon as they reach out to you. Intercom allows you to set up the rules of displaying auto messages to the website visitors or your customers, making sure that it would only pop up in front of the interested person and will not annoy people who have opened your website by chance. It also allows you to do a bunch of other things, like sending targeted campaigns, onboarding, managing conversations, and more. You can even set up an automatic chatbot to interact with your leads.
Pricing: starting at $38 per month depending on the functionality you need.
Calendar Scheduling
Moving leads through the sales funnel should be really smooth. You don't want to make people frustrated by randomly suggesting the wrong time for a demo. Here's what tools you can use to make scheduling easier.
You don't want to waste your time trying to figure out what hours work best for the product demo or a face-to-face meeting with your prospect. Calendly is a very useful scheduling tool that allows you to easily set the date for any event that you have planned with the other person. Just send them the link with available time alternatives and let your prospects decide. There's no easier way to schedule meetings that this. It also has useful integrations with Chrome, Intercom, Salesforce, etc, so you can use it together with your favourite tools.
Pricing: starting at $8 per user/month. Free usage possible (limited by 1 event type).
ChiliPiper makes scheduling extremely easy. This tool allows qualified prospects to automatically book a meeting or start a phone call immediately after filling out a web capture form. ChiliPiper will help your sales team save a lot of time. Users can also embed date and time directly in the email body, meaning that the leads won't have to open a new page to view the calendar with available windows in real time. It also can be synced with Salesforce automatically. ChiliPiper can also be integrated with GSuite/O365, Zoom,Twilio, etc.
Pricing: starting at $25 per user/month (billed annually) No free trials.
Customer Management (CRM)
Decent storage for all the customer-related data is a must for every sales department. And the easier it is in use, the more efficient your sales reps will become. Let's take a look at some high-quality options.
Being both a CRM and a sales funnel management tool, Pipedrive can become a great solution for small- and medium-sized businesses. It's been developed with the assistance of the seasoned salespeople and ex-Skypers, so if you've been places and you've seen things in sales, you'll find it very convenient. This software enables you to organize leads properly so that you could see a complete picture of all the sales in your company. It also helps you focus on the important deals first. You can integrate it with Google Google apps and access it from both desktop and mobile devices.
Pricing: starting at $15 per month. Free trial possible.
This is one of the leading CRM systems for small- and medium-sized businesses. The beauty of this CRM is that it's super simple. It has a bunch of useful features, but it doesn't overwhelm the user with complicated settings. And the best part is that it's completely free. So if you are just starting out or looking for a solution that would simplify the work of your sales team, try Hubspot. Your sales reps will be able to get started really fast and they won't have to make serious changes to their existing workflow.
Pricing: Hubspot Sales Hub starts at $50 per user per month. Free usage possible.
Cold Calling Tools
You know that cold calling is not dead, right? It's alive and it's thriving. You just need to develop a proper strategy and warm up your leads before you start dialing whereas decent call center software will do the routine job for you.
How do you ensure the maximum productivity and transparency of the sales department in your company? That's easy! By providing sales reps with productivity tools, giving them easy access to all the necessary information, and freeing up their time by minimizing routine work. Voiptime Cloud has an all-in-one cold calling software with a built-in CRM system that enables your sales team to reach maximum efficiency. Set up a call campaign using one of three dialing modes and reach out to prospects without manual dialing. This software will be especially useful for companies that work with clients internationally and have a high volume of outbound calls as it has features like DNC and local telemarketing regulations compliance (including FCC, Ofcom, etc.)
Pricing: starting at $39 per user/month.
Interested in ultimate call center software?
Contact us to discuss your needs and see Voiptime Contact Center in action!
If you are looking for simple calling software that would increase the productivity of your sales department, consider VanillaSoft. It's an inside sales and sales engagement platform that improves agents' productivity and helps your team close more leads. A high-quality VoIP connection that they provide ensures smooth autodialing, whereas branch scripting helps the new agents to quickly get comfortable reaching out to prospects and learn to handle objections. Also, an easy Google Calendar appointment setting is especially useful for every sales team as it eliminates the possibility of double booking. You can integrate VanillaSoft with Salesforce for lead tracking and reporting.
Pricing: starting at $80 per user/month + add-ons. Free trial possible.
Outreach Automation Tools
Outreach automation tools can help your sales team connect with more leads and achieve greater success. Let's see what software can be useful for your sales department.
Snov is a cold outreach automation platform with a bundle of free extensions. It allows you to create drip campaigns, which is extremely cost-effective since you won't need to look for another tool for cold emails and follow-ups. Snovio email finder extension can become a lifesaver as it allows users to find contacts by domain and validate contact details. Your sales team will be able to reach more prospects, increase the conversion rates, and save a lot of time on generating and nurturing cold leads.
Pricing: starting at $29 per month (1000 credits). Free trial possible.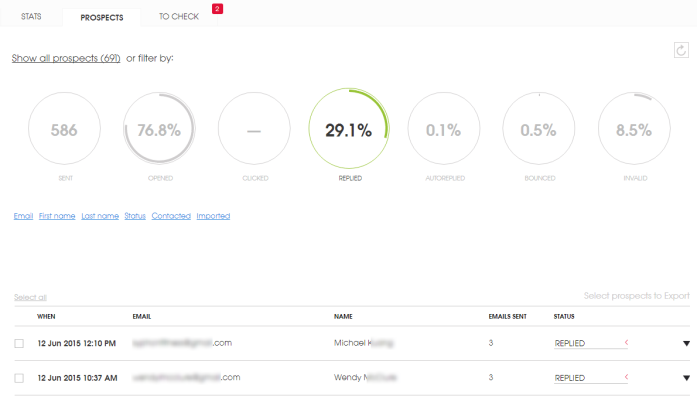 This outreach automation tool allows users to contact prospects with cold emails and follow-ups to easily acquire more new B2B clients. Woodpecker saves a lot of time as it helps you to create a mass email template that can be used to reach a lot of people without manually entering any data, track their answers, and oversee the effectiveness of every single campaign. You can use it to create dynamic emails or set up polls and marketing campaigns. Also, it provides easy integration capabilities with other email services. Another feature appreciated by many users is tutorials for walking new users through all the functionality, which is extremely helpful for not very tech-savvy sales.
Pricing: starting at $40 per seat/month. Free trial possible.
Reply is a great tool for inbound & outbound sales reps who need to contact lots of prospects on a daily basis. It enables you to save time and increase their reply rate.
Try this platform to automate one-to-many communication and increase outreach capability. Reply will be perfect for companies that want to automate personalized cold emails and follow-ups and scale sales but do not necessarily need to hire more team members. In addition, it is very easy to use.
Pricing: individual package starting at $70 per user/month. Free trial possible.
Emails are super important in lead generation and lead nurturing. Being able to tailor extremely relevant, personalized, and good-looking emails fast is an essential condition for a successful campaign. MailChimp is probably one of the easiest and most popular email marketing tools these days, and marketers across various industries love it for a number of reasons. It's very easy to use, it has multiple useful features, and it also provides email automation. What else can you ask for? This tool will simplify interactions with your prospects and become a helpful assistant for lead generation.
Pricing: starting at $10 per month. Free usage is possible (limited by 2,000 subscribers and 12,000 emails per month).
Integration
You may ask what integration has to do with lead generation. As we've mentioned earlier, you should react fast and keep the time on your side. Smooth integration between tools will maximally simplify the work of your sales team.
Zapier is an easy automation tool that smoothly moves information between your web apps with no coding skills. It will make sure you always keep your focus on the most important things. You don't have to copy-paste lead data anymore and move it across several different apps. Use this tool to connect multiple business services together and maximize the efficiency of your lead generation efforts.
Pricing: starting at $18.33 per month (if billed annually) Free usage possible (limited by 5 2-step Zaps only).
These are the most useful tools for lead generation from our point of view. Some of them are used by our sales team daily, others are just great options to check out. Hopefully, you'll be able to find something you've been missing for a long time ‒ something that will instantly skyrocket all the sales-related processes in your company. Good luck!