The times when organizations used to rely on intuition and educated guesses in making strategic decisions are long gone. To meet your business goals now, you need to measure the right metrics. And when it comes to the operationally complex business elements like call centers, the choice of KPIs can make a difference between achieving desired results or not. In this post, we'll talk about some of the key contact center metrics you might want to measure. Let's dive in!

Measuring the success of call center aims begins with the adjustment key performance indicators (KPIs). Key call center performance indicators are to be a measurable quantity that managers and directors should periodically evaluate to see how well the contact center meets various operational goals and whether their agents meet the needs and expectations of customers with regard to the high quality of customer service.

In this article you will find:

When used correctly, call center KPIs can serve as a form of communication and can be used to improve the quality of customer service (CX).

For call centers, it is a common mistake to accept standard call center KPIs without having to configure them to reflect the unique needs of their businesses. Each important call center KPI must be clearly explained to the team to which it belongs, just as the job description of each person is clearly explained during the adaptation process. When information is disseminated in a clear and concise manner, it is much more likely that it will not only be absorbed by the employee, but will act in accordance with it. This ensures that agents follow rules and policies that enhance the brand and CX image.
What Are the Key KPIs of a Call Center?
Here are some of the best key call center performance metrics to focus on to help you personalize your customer experience and increase brand loyalty for this year.
Productivity
Call Volume
Abandon Call Rate
Call Completion Rate
Call Handle Time - Average Call Time
Average Wrap-up Time (also known as After Call Work Time)
On-Hold Time
Service level
Service level (SL)
% Repeat Calls
% Call Transfers
First Call Resolution (FCR)
Missed calls
Call center performance quality
Agent occupancy (also known as Agent Utilization)
Sales Conversion Rate, Average Sales per Agent
QA scoring or Call quality analysis
Customer Satisfaction & Recommendations
Customer Retention
Productivity
Each contact center approaches measuring call center productivity metrics in its own way. Here are the most important call center metrics:
Call Volume ‒ the sum of calls that all agents have received ‒ the entire volume of incoming and/or outgoing calls that the agent has processed. This standard call center metrics is usually compared to an individual plan of each agent for a week or month.
Abandon Call Rate ‒ all conversations that did not take place because the customer ended the important call before the agent answered. For example, if the number of lost calls is 10 out of 100, it turns out that 10% of calls did not result in a communication between the customer and the agent. A cost per call should be also taken into account.
Call Completion Rate ‒ this is an important call center KPI, which shows how many repeated calls have been made due to the incompleteness of the conversation for any reason (for example, due to connection failures).
Average Handle Time - this call center efficiency metrics can be a little tricky. Although you want to provide your customers with a solution as quickly as possible in order to respect their time, you also want to make sure that you provide them with an efficient service, and not just "get them on the phone." The shortest TTR (Time-to-Resolution) is the goal of each technical support group. Customer satisfaction can be reduced no matter how quickly the problem is solved.
For example, you can set the optimal time an agent is located around this target period. Then you should study them and try to understand the reasons why they have longer calls or, conversely, shorter ones, and if they are not very efficient in this matter.
Average Wrap-up Time (also known as After Call Work Time). Wrap-up time is the time that the agent spends on after-call work (ACW) once the conversation with a customer is over. ACW is an important component of AHT. You should measure wrap-up time for several reasons.
First, ACW which sheds some light on the length of agent-customer interaction. Add the wrap-up time to AHT and you'll see how much time is invested by an agent. Separate it from AHT and you'll see the length of time that is invested by a customer. And next, this typical call center metrics helps you understand whether the call pace is optimal for your agents and identifies the need to reorganize the processes.
Say, if the call requires long post-processing by the agent, you might want to consider automating the process and transferring the key points of the issue to specialists who will then address it. At the same time, you don't want your agents to have too little time between calls because it's a sure way to burnout.
On-Hold Time. Putting a customer call on hold for a long time to find out some details and give a complete answer is never a good idea. The customer can get off the phone and stay unsatisfied. Appreciate customer effort to reach you.
Service Level
The service level is your ability to deliver the standard of service promised to your customers by Service Level Agreement (SLA). Your SLA holds you accountable for your promise. It typically looks at the % of calls answered in X seconds. The higher the SLA, the less time your customers spend waiting to speak with one of your agents.
One of the call center SLA benchmarks is 80/20 (in 80 cases out of 100 the client waits for a connection with the operator within 20 seconds). Although this number is an industry standard, it can differ from organization to organization (for example, it can be 90/10 for incoming calls in banks). To check how close your contact center is to this rate, check SLA reports of each of your inbound lines. Important note: you need to look at it in dynamics. Namely, if SLA goes down at particular hours, you should re-organize agents' shifts to achieve the desired number. Use the Erlang calculator to determine how many inbound line agents you need per shift.
Percent of repeated calls (% Repeat Calls). This is the number of repeated incoming calls for a certain period of time. It helps to assess the speed of answer of your operators.
Percentage of calls that are redirected (% Call Transfers). The calls transferred by your agents to their more qualified colleagues. What to look for? When this figure is too high, it might mean that you've chosen the wrong call handling strategy and/or your agents might lack information for high-quality processing of requests on the first line.
First Call Resolution (FCR) is a metric that tracks how many customer issues are resolved on the first call or first interaction. This call centre KPI's very important for ensuring a high level of customer satisfaction. The sooner your agents resolve customer issues, the happier your clients become.
Call Center Performance Quality
Each company has its own matrix for assessing a set of KPIs of call center agents. These depend on the specifics of their work (for example, sales reps and their technical support colleagues have a different set of desired characteristics). Therefore, all departments make their own list of criteria by which they can assess the quality of work of contact center agents.
Agent occupancy (also known as Agent Utilization). Agent occupancy (%) is the percentage of total logged-in time that the support agent spends on call-related activity (i.e. talk time, hold time, and after-call work). Agent occupancy is sometimes confused with "utilization", which is a total time that the agent spends at work.
It's important to mind that distinction between agent occupancy and utilization because utilization time includes everything an agent does in the call center, like meetings, training sessions, etc. You don't necessarily need to measure utilization, but you might want to measure the time spent on handling calls.
Sales Conversion Rate, Average Sales per Agent. Call center managers need to monitor the average sales per agent to understand how effective they are at closing deals and meeting company goals. Comparing the sale average to a set target also helps call teams gauge their call agent performance metrics.
QA scoring or Call quality analysis. Call quality is the evaluation of call recordings by the supervisor on things like professionalism, courtesy, compliance, adherence to company standards (greeting, following the script, refuting objections, etc), and more. This is a very popular call center metric regardless of industry.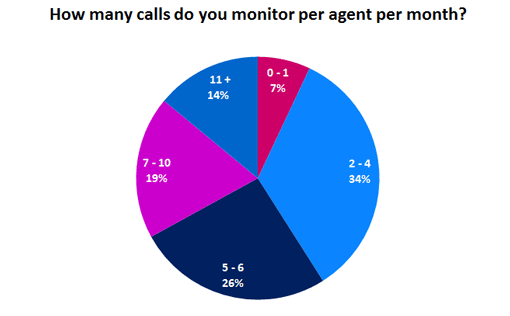 Source: Most Contact Centres Monitor Less Than Six Calls Per Advisor Every Month
Supervisors usually choose random calls for such quality reviews in call center statistics. These call center metrics best practices are very useful in the context of coaching and training. It also helps to build a consistent tone and message, which is crucial for the company's digital image.
Customer Satisfaction & Recommendations
Building on our previous point, the overall customer satisfaction level is vital to call setup success rate regardless of its size. It's the beating heart of your entire operation, so monitoring and reacting to call center metrics of this kind is essential.
Source: Datapine
The Customer Satisfaction, inevitably linked to the Quality of Customer Support, will give you a clear insight into what your customers think about you and your ability to support them with their needs. Despite the fact that your day-to-day operation could be efficient enough, there might be some problems that have escaped your notice – repetitive issues that can prove detrimental to the perception and future of your organization.
If your customers are facing the same issues over and over again, it will reflect poorly on your service levels. And, based on the fact that a happy customer will recommend you to an average of three friends, ironing out any perpetual kinks must be at the top of your priority list.
The better your Customer Satisfaction score, the more successful you will ultimately become. Should your service levels dip, you will be able to take appropriate action by rolling out digital customer feedback surveys and integrating a writing-box into your customer service journey so that customers can leave detailed feedback.
Customer Retention
One of the most valuable components of any successful business is customer loyalty. Retaining consumers is of vital importance, because it costs a business more to acquire new customers than to retain already existing ones.
This is a typical customer KPI that you can use for your call center. This metric is measured by dividing the number of customers making repeated business or purchases by the total number of active customers. Keeping a happy customer costs less than inciting a new prospect to your business and by being able to view your retention levels, you can ensure that your call center helps the business to become as efficient, economical, and profitable as possible.
The exact specific value varies depending on the nature of your business. For example, a car dealership has the potential for growth despite having a poor level of customer retention. An online retailer store, on the other hand, needs to maintain a high retention rate to secure sustainable commercial success.
A thriving retention rate is the main aim for most businesses, and as such, it should be one of your primary call center metrics. An exceptional brand image as a customer service metrics in a call center coupled with a superior satisfaction score will serve to boost your customer retention rates, in turn, boosting the overall success of your business.
What Are the Industry Standards for Key Call Center Quality Metrics?
Service Level
The traditional level of service in the contact center is to answer 80% of calls in 20 seconds.
Recently, however, many contact centers have been trying to improve the level of service, trying to answer 90% of calls within 15 seconds.
Here is a list of the usual service levels for the contact center channels provided by Call Center Helper:
Email – 95% of emails answered within four hours (the better contact centers are aiming to respond to 80% of emails within 15 minutes);
Live Chat – 80% of chats answered within 40 seconds;
Letters – 95% of letters answered within three days;
Social Media – 80% of contacts answered within 20 minutes;
SMS/Messaging Apps – 80% of messages responded to within 40 seconds.
First Contact Resolution (FCR)
70–75%
The industry standard for this one is around 70-75%, but there are many different ways to measure resolution rate. Depending on the method you prefer, the result will be different, which is the reason why it's extremely difficult to measure FCR accurately, especially if you use multiple channels.
Maximum Occupancy
83.3% (based on 190,702 entries into Erlang Calculator)
Whereas it's commonly stated that contact centers should aim at 85-90%, this percentage can be considered the norm in call centers that mostly process inbound calls with a very high value of the lost inbound call. To protect your team from burnout, it's better to slightly underachieve in this regard, and that's what many call centers do. For example, agent occupancy of 70-80% is an optimal percentage for telemarketing call centers.
Quality Assurance (QA) Scoring
75-90% (scoring of 4 random calls per month)
Most contact centers score up to 2 agent-customer interactions per week. However, researches show that many contact centers don't meet this standard.
How to Ensure That Each Standard is Met?
It's possible to improve the quality characteristics of the agents' work through sales training, workshops, presentations, processing cold contacts, etc. Apart from that, there are also a couple of changes that you can implement in your call center workflow to start seeing better results faster.
Service Levels across channels
Be proactive and plan in advance
There's always a time of the day when call volumes are at their peak. Encourage your agents to balance their response time and plan activities for the day ahead on the shift (for example, plan callbacks for the less busy hours). Also, consider implementing things like IVR, channel prioritization, and intelligent call routing. This will help your team be more efficient.
First Call Resolution
Take personalized approach
You'll be better off if you find individual FCR for different call reasons. The more FCR reasons you determine, the more accurate insights you will get. You might have surprising findings. Like, for example, you might notice that some reasons are hard to deal with for your customers, whereas others are hard to resolve for your agents. Similarly, implementing skill-based routing can do wonders for your call center. By sending customers to the right agent from the get-go, you'll significantly reduce the number of escalations.
Maximum Occupancy
Optimize workflow
Without a doubt, you need to have an efficient dialing system, but there are also many other activities that eat up a lot of your agents' time. Hopefully, you don't use Google spreadsheets anymore, and if you do, consider switching to a decent CRM system that will integrate smoothly with your dialing software, or purchase a call center solution that has a built-in CRM already, like Voiptime Cloud. This will immediately minimize routine work and help your agents stay really productive. Also, make sure your agents have just enough work to deal with, that is, that they are not too occupied but not idle at the same time.
Quality Assurance (QA) Scoring
Provide sufficient feedback
Most contact centers use random call scoring, and some of them make one common mistake – they don't follow up with the analysis and feedback. If you want to improve your agents' work, help them fix their weaknesses. You can dedicate some time to each agent individually or organize peer-review sessions. Test different approaches and see what works for your team.
Things to Remember About Call Center KPIs
Now you are acquainted with the call center metrics list and what KPIs to track in 2020. You have just to remember that if you limit your performance and call center KPI to the most basic records and reporting, then you are likely to restrict the overall potential of your contact center.
The business will most likely go right if you monitor the performance of your agents, and:
take into account on what issues customers are shielding;
request their feedback;
pay attention to how their brand is discussed on social networks;
actively measure the tendency of your clients to recommend their financial services to others.
Measuring call center performance using call center metrics and KPIs really can make a difference.